Posts: 1494
Joined: Tue Jul 14, 2020 2:16 pm
Has thanked: 151 times
Been thanked: 779 times
It sometimes looks to me like our wonderful media are experts at hiding the truth by blowing up a 100 word article into a 1500 word unreadable piece.
The following are the most important facts from the article in the OP.

On 22 December, the Commons nursing home in Cayuga County (New York) started vaccinating its 210 residents with the COVID-19 vaccine.
Already 193 residents (80%) have been vaccinated.

On 29 December, they began dying really fast, in 1 1/2 weeks 24 deaths (11% of the residents).

Instead of reporting on how many of the 24 diseased had been vaccinated, we are supposed to believe that all of them died "of COVID-19"!
Posts: 1494
Joined: Tue Jul 14, 2020 2:16 pm
Has thanked: 151 times
Been thanked: 779 times
An update... an additional 20 residents since 5 January at The Commons in Auburn (New York) have died.
After mass vaccination was started on 22 December (263 residents have been vaccinated so far). At least 32 residents have died:
https://www.foxnews.com/health/coronavi ... ead-report
Are nursing homes the most dangerous places in the world?
Is COVID-19 as deadly as our wonderful media are insinuating (where are all the people dying in the street)?
Or doesn't the COVID-19 vaccine protect against the coronavirus (with the 0.1% fatality rate)?
Or are all (or most of) these deaths caused by the not properly tested Pfizer corona vaccine?
Posts: 1494
Joined: Tue Jul 14, 2020 2:16 pm
Has thanked: 151 times
Been thanked: 779 times
Norwegian health authorities have actually admitted that the COVID-19 vaccine has caused the death of 13 elderly people, who have been autopsied and "showed signs of suffering side effects such as fever and nausea".
And that the untested vaccine could have caused the deaths of another 10 elderly people (23 diseased in total):
We cannot rule out that adverse reactions to the vaccine occurring within the first days following vaccination (such as fever and nausea) may contribute to more serious course and fatal outcome in patients with severe underlying disease.
.
Norway has confirmed that 29 people have suffered from adverse effects shortly after getting the Pfizer or Moderna coronavirus vaccine. In total more than 30,000 people have been vaxxed. That sounds impossible (only) 29 adverse effects, compared to 13 (or 23) deaths.
Also strange that 21 of these 29 that suffered adverse effect are women:
https://www.dailymail.co.uk/news/articl ... armed.html
That these untested vaccines are now tested on the brainwashed population is a violation of the Nuremberg code.
That these vaccine pushing psychopaths knew in advance that the adverse effects on elderly people in bad health would be potentially fatal, is a reason that they should be sentenced for crimes against humanity (genocide).
For some reason the following report of the FDA was deleted "Building the Critical Path for COVID-19 Therapeutics" (May 2020).
They already knew in advance that the only people that could possible benefit from the vaccines – old people with serious health problems – are expected to suffer from severe adverse reactions from the COVID-19 vaccines (poor outcomes)…
Immune modulators: Most SARS-CoV2 infections do not have serious health consequences. However, severe complications in the minority of patients who are hospitalized – particularly elderly patients and those with comorbid conditions – have led to hundreds of thousands of deaths and to health care systems being pushed to or beyond crisis capacity worldwide. Studies have indicated that intense immune reactions, with "cytokine storm" and the release of other compounds involved in inflammatory response, may be important contributors to poor outcomes in these patients. Consequently, immune modulator drugs may be able to reduce the incidence of severe complications, critical illness and mortality in certain patients, as well as reduce the strain on health system capacity from COVID-19 in the months ahead. Because some COVID-19 patients also have serious complications from blood clotting, studies of anticoagulants and thrombolytic drugs are also getting underway.
http://web.archive.org/web/202006130348 ... _final.pdf
Posts: 1494
Joined: Tue Jul 14, 2020 2:16 pm
Has thanked: 151 times
Been thanked: 779 times
In the UK, 24 elderly residents died in Hampshire (with only 72 residents), while at another Midlands care home 9 died.
All of these 33 died, after residents in these care homes starting to be vaccinated with the experimental COVID-19 vaccines.
Already 75% of residents in UK care homes have been vaxxed.
A government spokesperson emphasised that there was no evidence that these deaths were caused by the vaccine.
I guess that it's just another one of those strange "coincidences" that the number of "coronavirus deaths" in the UK spiked since vaccination started!
A certified nursing assistant has claimed, "after being injected with the mRNA shot ... now they are dying. "They're dropping like flies"" and that "residents who refused to take the injections, are not sick":
https://archive.is/tHk5O
Posts: 1494
Joined: Tue Jul 14, 2020 2:16 pm
Has thanked: 151 times
Been thanked: 779 times
Another (similar) story; after vaccination started in a nursing home in Como, Italy.
The elderly residents started dying very fast, killing already 21:
https://archive.is/B7PHc
Posts: 1494
Joined: Tue Jul 14, 2020 2:16 pm
Has thanked: 151 times
Been thanked: 779 times
The following UK Column video features a "NHS whistleblower", who explains why suddenly all of these elderly people die after COVID-19 vaccination. In reality this is more a scientist than a whistleblower though - he analyses publicly accessible information.
In short, the experimental Pfizer COVID-19 vaccines causes immune deficiency, until 7 days after the victims have been poisoned with these vaccines. This can make elderly people seriously ill, who could die from the immune deficiency caused by the vaccines.
With the result that the death rates among the elderly skyrocketed - a 4-fold increase in deaths.
These deaths could last longer than the first 7 days after vaccination.
The interesting part with the NHS whistleblower is from 4:00 to 9:30 minutes.
UK Column News - 1st February 2021
Alternative link for the Youtube video:
https://brandnewtube.com/watch/uk-colum ... FKkcF.html
Here are the links to go along with the UK Column video:
https://www.ukcolumn.org/ukcolumn-news/ ... ruary-2021
The most important evidence this "NHS whistleblower" provides is the following graph -
Pfizer vaccine causes drop in immune system up to 7 days post vaccination
.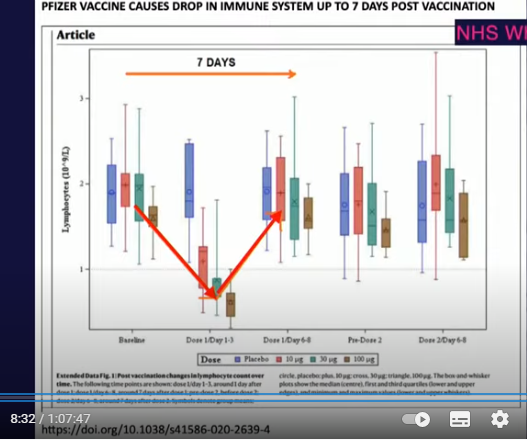 This comes from the following scientific looking paper. You have to look very hard to find this information.
Transient decreases in lymphocyte counts (grades 1–3) were observed within a few days after vaccination, and returned to baseline within 6–8 days in all participants. These laboratory abnormalities were not associated with clinical findings. RNA vaccines are known to induce type-I interferon, which has been associated with transient migration of lymphocytes into tissues 19,20,21,22.
.
To find the source for the previous picture, you have to go all the way to the bottom and click on "
Extended Data Fig. 1 Post vaccination changes in lymphocyte count over time
".
The following time points are shown: dose 1/day 1–3, around 1 day after dose 1; dose 1/day 6–8, around 7 days after dose 1; pre-dose 2, before dose 2; dose 2/day 6–8, around 7 days after dose 2. Symbols denote group means; circle, placebo; plus, 10 μg; cross, 30 μg; triangle, 100 μg. The box-and-whisker plots show the median (centre), first and third quartiles (lower and upper edges), and minimum and maximum values (lower and upper whiskers).
.
Why would they make it almost impossible to find this information? This wouldn't be some sort of cover-up would it?
As the trial participants were healthy and younger than 60, it certainly is possible that in this trial they wouldn't suffer any serious adverse effects from these vaccines.
Mark J. Mulligan et al. -
Phase I/II study of COVID-19 RNA vaccine BNT162b1 in adults
(12 August 2020):
https://www.nature.com/articles/s41586-020-2639-4
(
https://archive.is/BNoWt
)
Posts: 1494
Joined: Tue Jul 14, 2020 2:16 pm
Has thanked: 151 times
Been thanked: 779 times
Once again... the Lagartera Residence in the Toledo area in Spain didn't have a single COVID-19 case since the start of the "pandemic".
Until on January 13 they started injecting all the 78 elderly residents with the experimental Pfizer-BioNTech vaccine, and after 6 days many of the residents started getting ill.
On 21 January, 8 days after vaccinations started, all residents were quarantined in their rooms and were all tested for COVID-19 - all of them tested positive.
At least 7 residents died, or 9% of the 78.
Of the 71 residents still alive, another 4 are in hospital.
Our wonderful media, once again, claim that all of them died from corona in a massive outbreak (or some other underlying condition?):
https://www.rt.com/news/514303-deaths-p ... vid-spain/
Posts: 1494
Joined: Tue Jul 14, 2020 2:16 pm
Has thanked: 151 times
Been thanked: 779 times
On 19 January 2021, the Guardian reported that 18 of 27 residents at The Old Hall Care Home (in Lincolnshire) had suddenly died shortly before Christmas and that "
the deaths were so sudden [that] staff did not have the chance to administer end-of-life treatment or arrange for loved ones to say goodbye
".
For some reason they forgot to mention that the Old Hall residents had received the "life-saving" COVID-19 vaccine.
Pemberley House care home in Basingstoke suffered a "lethal outbreak" that killed 24 residents shortly after vaccination started, but fortunately the MHRA could quickly ensure that the vaccines were not responsible.
Another 12 people died and 51 were infected with COVID–19 at the West Park Care Home in Fife, Scotland, following the residents' inoculation with the COVID–19 vaccine.
In Gibraltar the total deaths of the amazing coronavirus was 12, until 10 January of this year.
On 10 January 2021, Gibraltar started its vaccine rollout. By 30 January 2021, the COVID–19 fatalities on the Rock had risen to 75 - or a 525% increase in the death rate in only 20 days.
https://www.ukcolumn.org/article/why-th ... -mortality
(
https://archive.is/aoUf5
)
Posts: 1494
Joined: Tue Jul 14, 2020 2:16 pm
Has thanked: 151 times
Been thanked: 779 times
Firestarter wrote:

Israel began vaccinating on 19 December with the Pfizer/BioNTech vaccine, the country is racing to vaccinate the entire population over the age of 16 years just 3 days before the election on 23 March.
viewtopic.php?p=9745#p9745
After Israel started its massive vaccination campaign on 19 December, the number of COVID-19 deaths per day skyrocketed, with 30% of Israeli COVID-19 deaths in January 2021 alone (at least 1,433 of 4,796 fatalities).
Already 3,081,162 Israelis have received the first vaccine dose, and 1,790,121 got both shots:
https://www.timesofisrael.com/30-of-isr ... ary-alone/
Can you image that our wonderful media are actually claiming that the daily amount of deaths in Israel has leveled off because of the (immune compromising) COVID-19 vaccine?!?
Check the rise of the daily number of corona fatalities since 19 December...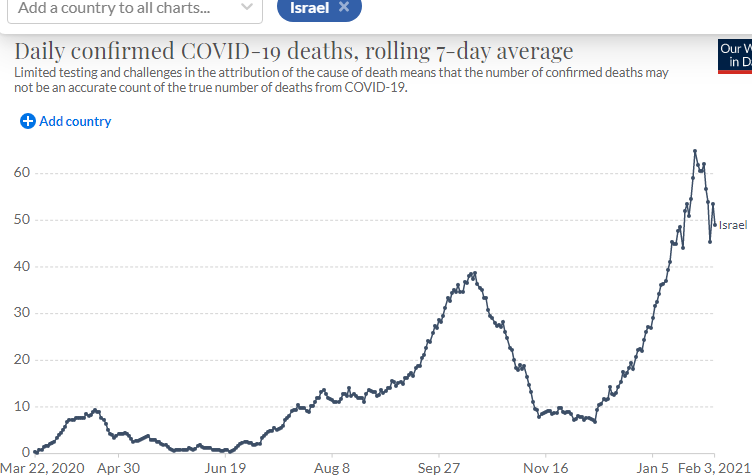 Check the total amount of Israeli COVID-19 deaths since 19 December - note the increase.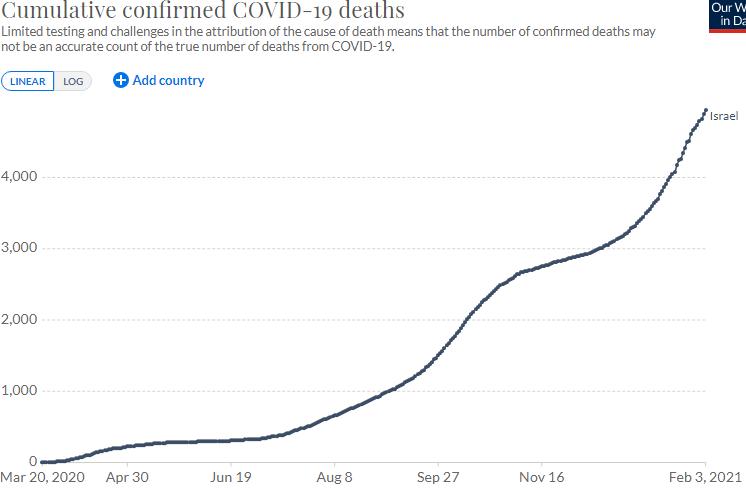 https://ourworldindata.org/coronavirus/country/israel