In a way this is the main topic of this thread, while most people have never heard about it, the Most Noble Order of the Garter is the highest chivalric order in the UK, which makes it the most powerful "order" in the world (forget about Bilderberg, CFR, Jesuits or freemasonry).
Here's the gang of bloodsuckers at the Garter ceremony, 17 June 2019, kings Willem-Alexander of the Netherlands and Felipe of Spain were installed as knights of the garter in 2019. Philip is missing...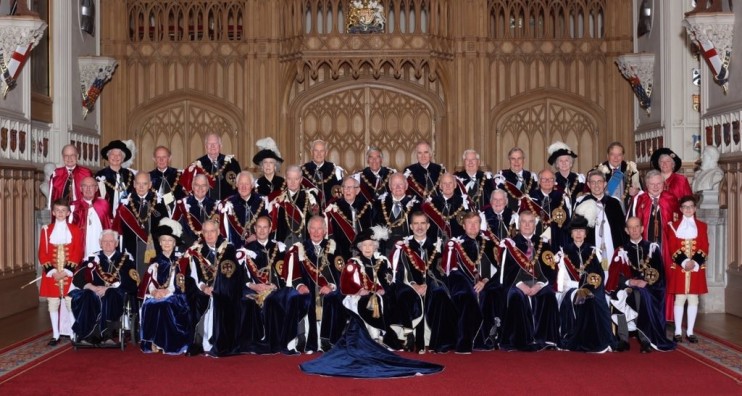 The Most Noble Order of the Garter was founded by King Edward III of England around 1348.
The motto of the Order of the Garter is in Old French "
Honi soit qui mal y pense
" and literally translates: "Shame on him who thinks evil of it".
In 1348, Edward III started changing England's patron saint to St George exclusively, by dedicating the new chapel at Windsor to him. St. George is also the patron saint of the Order of the Garter.
The most popular tale of St. George involves slaying a dragon. St. George is most commonly depicted as a knight mounted on a horse and spearing a dragon.
See the Badge of The Order of the Garter, with at the centre St George (on the white horse), worn by William IV (King of the United Kingdom of Great Britain and Ireland and King of Hanover from 1830 until his death in 1837).
Possibly the legend of St. George slaying the dragon refers to the god Set (a.k.a. Satan), who fought the serpent Apophis, using a spear to overcome this dragon. Set was the original god of the Hyksos dynasty, who later became followers of Akhenaton and his Atonists:
https://carrothersclan.wordpress.com/tag/lion/
(
https://archive.is/uYjqP
)
One of the sources for Nicholas de Vere, was Margaret Murray who wrote about witches and fairies. Because it´s not so bizarre, with references, her book automatically makes a more "reliable" impression.
Murray describes that the Garter was an important insignia of rank for witches covens and signifies a pact with the Devil. If I follow this for an explanation; the Order of the Garter is really a Witches order that worships the Devil.
There are indications that in England sacrifice rituals took place every 7 years, in Normandy, Scandinavia and France every 9 years.
Margaret Alice Murray -
The God of the Witches
(1931):
https://web.archive.org/web/20190729122 ... dwitch.pdf
The following French Caricature, shows that already in 1899 people knew about the true nature of British imperialism (note he motto of the Order of the Garter "
Honi soit qui mal y pense
").