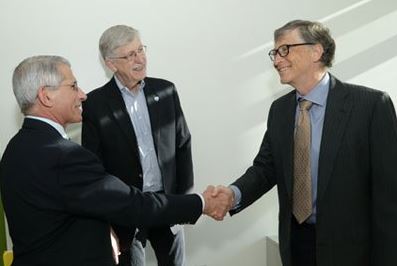 There is no question that Anthony Fauci has a major conflict of interest with Bill Gates. Fauci's deliberate attack on hydroxychloroquine is relegating people to die. Banning the drug and directing pharmacies to intervene and deny doctors from prescribing it is unbelievable. Politics has NEVER interfered with the doctor-patient relationships — EVER!
Fauci's attack on a drug that has been approved for decades and is over the counter even in Iran and available to their people fighting COVID is unimaginable. Many people are coming out against Fauci and his deliberate campaign against this drug to support Bill Gates' vaccines. The drug was first used in France with 3,100 people with great success. Something is seriously wrong!
There should be a class-action lawsuit filed against Fauci to expose all of his conflicts of interest and taking over $100 million from Bill Gates for his agencies. He has rejected prior NIH studies of previous decades with no explanation. Something is just not right about how political this drug has become, and the benefactor of refusing this drug is to maintain the lockdowns, destroy the economy further, and line the pockets of Bill Gates and his vaccines.
https://www.armstrongeconomics.com/inte ... in-prison/